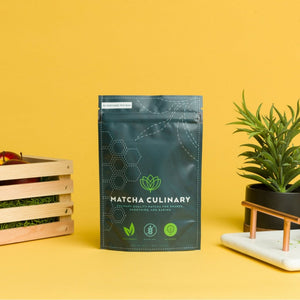 MatchaMuscle
Matcha Culinary
Sale price Price $20.00 Regular price
Our Matcha Culinary lets you experience the superior flavor and health benefits of Matcha in any drink or food. Grown in the famed tea region of Uji, Japan culinary grade means Matcha made from older, more mature tea leaves. It is the perfect addition to healthy creations such as cold pressed juices, smoothies, and it can even be used as a savory replacement to sugar in baked goods or ice cream. The health benefits include;
Sustained energy and mental focus.

10x the antioxidants of a regular cup of green tea.

Detoxifies the body and fortifies the immune system.

Speeds up metabolism and burns calories.

Is loaded with catechin, EGCg.

Contains 10 calories per serving.
The flavor profile is more astringent as opposed to the sweet taste in our Just Matcha but each bag of our Matcha Culinary has 36 servings, that's 12 more than its premium grade counterpart for the same price. If shakes, smoothies, and baking are more your thing this is the Matcha match for you! You can also explore our growing list of  recipes and and visit our Matcha preparation guide for tips on incorporating Matcha Muscle into your every day routine.
36 Servings Per Bag (170g)
Care Notes: 
- Store in a cool dry place- Reseal after use
- Sensitive to light and air