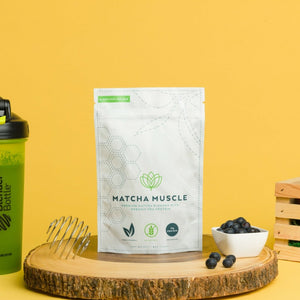 MatchaMuscle
Matcha + Pea Protein
Sale price Price $20.00 Regular price
Our original and most popular blend of Matcha and 100% organic pea protein. When mixed with water or milk, this powerful duo breathes a full-bodied, creamy herbal flavor unparalleled in nutritional value. Just one serving of Matcha Muscle;
Has 10 grams of pea protein per serving.

Provides hours of sustained energy and mental focus.

Is vegan friendly.

Contains 10x the antioxidants of a regular cup of green tea.

Detoxifies the body and fortifies the immune system.

Speeds up metabolism and burns calories.

Is loaded with catechin, EGCg.

Has less than 40 calories.
Matcha Muscle can be enjoyed post / pre-workout or added to your favorite shake or smoothie for a boost of energy and antioxidants. You can also explore our growing list of Matcha Muscle recipes and and visit our Matcha preparation guide for tips on incorporating Matcha Muscle into your every day routine.
16 Servings Per Bag (232g)
Care Notes:
- Store in a cool dry place
- Reseal after use
- Sensitive to light and air